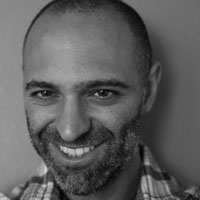 Reza Safinia
Reza Safinia is a composer raised in London and living in LA. Prior to composing for film, he was a Universal Music songwriter and record producer/engineer working with artists such as Kylie Minogue, Britney Spears and Ms Dynamite. His work is a textured collage of his professional and personal experiences, from his early years playing in rock bands to working as a Hip-hop engineer at Jive Records' Battery Studios in NYC.
A multi-instrumentalist with a decade of production expertise, Reza creates music, sound design and the space in between with a three-dimensional approach: Orchestral elements, ambient music and hip-hop are fused with electronica/rock creating a tactile sound serving the image. Acoustic performances blend seamlessly with industrial noise in a space where even the most tweaked sounds retain an organic quality. Bands like Wu Tang Clan and Nine Inch Nails inform Reza's musical sensibility as much as composers like Gustavo Santollalla and Clint Mansell, and every now and then there will be an echo of his UK urban roots with some roaring dubstep bass.
Alongside his career in pop music, and composing, Reza has been deeply involved in underground music also. He co-founded the UK indie label "Illa State Records", which played a pivotal role in the grime/dubstep movement through the release "It's Not A Rumour" by artist Akala: The "eclectic and polished debut" (The Times), with "raw energy and outrageous talent" (BBC Music), was produced and co-written by Reza and garnered Akala a prestigious MOBO award (beating fellow nominees Kanye West and Busta Rhymes).
Reza's compositions for film can be heard in "Filly Brown", which premiered at Sundance 2012, hitting theatres this year, and in Sundance 2011's audience award winning "Kinyarwanda". Reza has recently completed work on psychological thriller "Snap" which premiered at SXSW, starring Jake Hoffman (Barney's Version) and Nikki Reed (Twilight).