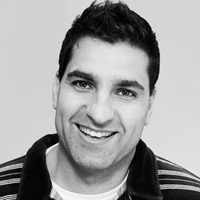 Youssef Delara
Delara started out in the film industry as a Visual Effects Associate on the highly successful Paramount Television series, STAR TREK: DEEP SPACE NINE where he moved up to Visual Effects Supervisor before going on to produce visual effects for STAR TREK: VOYAGER as well as sequences for the popular STAR TREK feature films GENERATIONS and INSURRECTION. After a stint working on another visual effects heavy television series, Universal Studio's "Burning Zone," and two heavy visual effects features, THE KARATE DOG & BABY GENIUSES 2.
In 2004, Youssef teamed up with his brother Amir Delara and Victor Teran to produce the company's first independent feature film ENGLISH AS A SECOND LANGUAGE, written and directed by Delara. The film went on to win multiple awards at the Newport Beach, Boston Latino, Deep Ellum, Puerto Vallarta, Orlando Latino, Portland Pine and the Santa Fe Film Festivals. The film premiered on the Showtime Networks and was distributed domestically and internationally.
In 2009, Youssef produced his second feature, BEDROOMS, a portmanteau film starring Julie Benz and Moon Bloodgood, with segments written and directed by Youssef Delara, Victor Teran and Michael D. Olmos. The film premiered on the Showtime Networks and was released domestically and internationally in the fall of 2011.
In 2011, the Delara wrote, directed and edited his third feature film, FILLY BROWN starring Gina Rodriguez, Edward James Olmos, Lou Diamond Phillips and Mexican singing sensation, Jenni Rivera. The film tracks the journey of tough female rapper as she transforms from underground street rapper to pop stardom. The film made its world premiere in Dramatic Competition at the Sundance Film Festival in January 2012 and will be distributed domestically and internationally by Indomina Releasing. Pantelion will theatrically release the film on 150 screens in 20 major Latino markets.
Delara's fourth film, SNAP, stars Jake Hoffman, Nikki Reed, Thomas Dekker and Scott Bakula. SNAP is an intense and raw psychological thriller that takes us on a terrifying journey into the depths of a killer's mind. Written by Victor Teran and directed by Youssef Delara and Victor Teran, the film had it's world premiere at the SXSW Film Festival and is slated for a late 2013 theatrical release.
Delara is presently developing a diversified slate of film including the heart-warming Latino themed family film MARCHING BANDA, a desert racing film, WIDE OPEN and a high concept Western, THE CURSE OF JACKSON DOBBS.