04 - 12 Maggio 2009


Film Festival Internazionale di Milano
In questa Newsletter

. Partnership Arnold Worldwide

. Il MIFF a Los Angeles - programma

. Los Angeles, John Daly, Premio alla Carriera MIFF 2005, muore a 71 anni

. Nuovo Format del MIFF, MIFF Award, presentato all'AFM-American Film Market

. Aperte le iscrizioni a MIFF Award 2009 in collaborazione con Withoutabox.com


MIFF 2008 Films
Tutti i trailer dei film lungometraggi e dei film documentari di MIFF 2008 sono visibili sul sito a questi link.

To watch all film and documentary trailers of MIFF 2008, click here below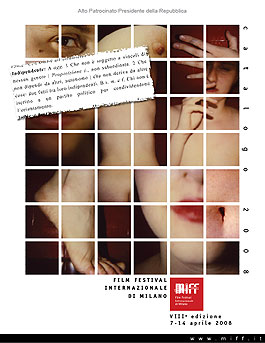 Catalogo / Catalogue
Scarica il Catalogo dell'8ª edizione.

Download MIFF 8th edition Catalogue.





I FILM D'AZIENDA DIVENTANO "WORLDWIDE".
Arnold Worldwide in partnership con il MIFF.
Nel 2009 sarà Arnold Worldwide Italia a curare la sezione del festival dedicata al cinema d'azienda.

INDUSTRY FILMS BECOME "WORLDWIDE".
Arnold Worldwide in partnership with MIFF. Industry MIFF Awards section cured by Arnold Worldwide Italy.

| | | |
| --- | --- | --- |
| Siglato l'accordo tra Arnold Worldwide Italia e il MIFF-Film Festival Internazionale di Milano per la partnership che vedrà l'agenzia di comunicazione milanese entrare nell'organizzazione del MIFF alla direzione del concorso per il cinema d'azienda, da quest'anno separato in due categorie: CORPORATE-filmati industriali e TRADE-advertising/spot. | | Arnold Worldwide Italy and Made in Milan Association are now partners for the MIFF Awards Industry Film Section, which has been divided into two categories: CORPORATE-Industrial films and TRADE-Advertising spot. |

IL MEGLIO DEL MIFF A LOS ANGELES ISTITUTO ITALIANO DI CULTURA - 8ª EDIZIONE

MIFF'S BEST 8th EDITION AT THE ITALIAN CULTURAL INSTITUTE OF LOS ANGELES.
MIFF's Best 8th edition in LA will take place for the first time in November (5th to the 8th), during AFM-American Film Market.

Il Meglio del MIFF 2008 a Los Angeles, in contempranea con l'AFM, presenta VAMPIRE DIARY (miglior film, miglior recitazione femminile, miglior fotografia e montaggio), THE TRAP (miglior regia e recitazione maschile), THE ELEVATOR (Miglior Cortometraggio), una serie di Corti MIFF 2008 (THE INTERVIEW, MARE NOSTRO, POP FOUL) e il documentario CUBA LIBRE in anteprima mondiale.

L'evento, in collaborazione con l'Istituto Italiano di Cultura e Snaidero, avrà luogo alla palazzina dell'IIC dal 5 al 7 novembre, con la proiezione dei film, e con una conferenza stampa all'AFM di Sanata Monica.

Per scaricare il programma cliccare qui

Link:
IIC Los Angeles
MIFF's Best 2008
AFM
SNAIDERO


MIFF's Best 2008 in Los Angeles is scheduled to screen VAMPIRE DIARY (Best Film, Best Actress, Best Cinematography), THE TRAP (Best Director, Best Actor), THE ELEVATOR (Best Short), a series of Official MIFF 2008 Short selection (THE INTERVIEW, MARE NOSTRO, POP FOUL) and Worldwide Premiere Documentary CUBA LIBRE.

In collaboration with the Italian Government Cultural Office (IIC), and Snaidero, MIFF's Best will take place at 1023 Hilgard Avenue in Los Angeles, where the awarded films of MIFF 2008 will be presented for public screening between November 5-7. In addition a Press Conference to introduce the new MIFF Awards format is set to take place at AFM in Santa Monica.

To download the film schedule for MIFF's Best at IIC click here.

Link:
IIC Los Angeles
MIFF's Best 2008
AFM
SNAIDERO





Cavallo di Leonardo alla Carriera MIFF 2005, e PRODUTTORE DA OSCAR, JOHN DALY,
muore a 71 anni
Nella sua carriera da produttore fu coinvolto in 13 film premiati all'Oscar come miglior film, e 21 Nominations. Muore a Los Angeles John Daly, Premio alla Carriera di MIFF 2005.

LEONARDO's HORSE LIFE ACHIEVEMENT AWARD AND OSCAR-WINNING PRODUCER JOHN DALY DIES AT 71.
In his carrier helped to produce films that earned 13 Oscars for Best Picture and 21 Oscar nominations. MIFF Life Achievement Award 2005 John Daly dies in Los Angeles.

| | | |
| --- | --- | --- |
| Dopo una faticosa lotta con il cancro, si è spento, Venerdì 31 ottobre, John Daly, produttore Inglese di 13 film premiati con l'Oscar, tra cui Platoon, e L'ultimo Imperatore. John Daly riceve il Cavallo di Leonardo alla Carriera nel 2005 e aiutò a lanciare la carriera di molti attori e registi, ora entrati nella A-list di Hollywood, come Denzel Washington, Keanu Reeves, Oliver Stone, Bernardo Bertolucci... | | Daly died Friday October 31 in Los Angeles after struggling with cancer. The British-born producer, who received MIFF 2005 Life Achievement Leonardo's Horse, helped to produce films that earned 13 Oscars for Best Picture and 21 Oscar nominations, including Platoon and The Last Emperor. He helped launch the careers of many A-list directors and actors such as Denzel Washington, Keanu Reeves, Oliver Stone, Bernardo Bertolucci... |




"INVENZIONE MADE IN MILAN", ANNUNCIO UFFICIALE DEL NUOVO FORMATO DEL MIFF ALL'AMERICAN FILM MARKET: I MIFF AWARDS

NON-PROFIT CULTURAL ASSOCIATION MADE IN MILAN, ANNOUNCES AT AFM-AMERICAN FILM MARKET FIRST EVER NEW FORMAT, MIFF AWARDS.

Per la prima volta da quando il primo evento di premiazione dell'Academy Awards ebbe luogo al Roosevelt Hotel nel 1929, e il primo Film Festival si svolse a Venezia nel 1932, un nuovo formato di evento per il Cinema viene sviluppato e sarà rivelato dal festival milanese MIFF alla sua 9ª annuale mostra cinematografica in programma dal 4 al 12 maggio a Milano.

MIFF, con la sua invenzione di un evento a premi basato sulle regole dell'AMPAS (Academy of Motion Picture Arts and Sciences) avvolto con gli ingredienti del programma di un film festival, permetterà a film inediti, non ancora usciti in sala, di gareggiare in una competizione configurata a candidature. Un format rivoluzionario disegnato per valorizzare ancor di più il cinema indipendente con la prestigiosa statuetta Oscar Milanese per il mondo cinematografico: il Cavallo di Leonardo.

For the first time ever since the first Academy Awards format event was born at the Roosevelt Hotel in 1929, and the first Film Festival took place in Venice in 1932, a new format will be unveiled and implemented by the Milanese Film Festival (MIFF) at its Ninth annual 2009 international cinema exhibition to be held May 4-12 in Milan, Italy.

MIFF, in its new invention of an Award Event based on Classic AMPAS (Academy of Motion Picture Arts and Sciences) rules twisted with a Film Festival program, will allow new, not yet released films into competition with Nominations. A revolutionary format designed to best promote indie films and rising even more the prestige of Milanese Oscar statuette, Leonardo's Horse.




LE ISCRIZIONI DI MIFF 2009 DIVENTANO "VERDI". Aperte le iscrizioni di MIFF Awards 2009 in collaborazione con withoutabox.com (IMDb). Per iscrivere il proprio film, si dovrà inviare solo un DVD, il resto sarà tutto on-line!

| | | |
| --- | --- | --- |
| MIFF APPLICATIONS GO "GREEN". MIFF Awards 2009 submissions open in collaboration with Withoutabox.com (IMDb). To submit a film, just send in a DVD screener, and all other materials is uploaded on-line only! | | |

Per far fronte alle centinaia di iscrizioni in continuo aumento e per ridurre l'emissione di carta e il consumo degli articoli da stampa, il MIFF-Film Festival Internazionale di Milano, diventa "environment friendly", e apre le iscrizioni on-line in collaborazione con Withoutabox.com, popolare database on line di cineasti e festival di tutto il mondo che fu acquisito da IMDb, in proprietà ad Amazon.com.

Link:
Per saperne di più sull'iscrizione ai MIFF Awards e le diverse categorie del festival seguire il link CONCORSO 2009 sul sito del MIFF.
Per registrarsi su WithoutABox.com e iscriversi a MIFF Awards 2009 andare sulla pagina del MIFF a WAB www.withoutabox.com

To confront the ever-increasing number of submissions and to reduce paper and ink waste, MIFF goes "green", opening submissions on-line in collaboration with Withoutabox.com, the popular filmmaker and film festival internet database acquired by IMDb, and owned by Amazon.com.

Link:
To know more about MIFF Awards 2009 applications of all categories go on MIFF website and follow CALL FOR ENTRIES 2009 link section.
To register on WithoutABox.com and submit directly to MIFF Awards 2009 go on the WAB-MIFF-page www.withoutabox.com




Riceve questa newsletter perchè siete registrati.
Se non desiderate più riceverla o non siete iscritti alla MIFF News, e desiderate farlo clicchi qui.