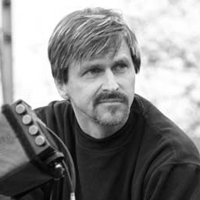 Craig Wrobleski
Craig's work as a Director of Photography has taken him across Canada and to locations throughout the United States, Europe and Asia and the South Pacific. In his twenty-plus years behind the camera Craig Wrobleski csc has served as Director of Photography on productions of every description in a variety of formats including 35mm film, 16mm film, 8mm film, RED and Alexa digital camera systems, High Definition video and multi-camera mobiles.
Craig's drama credits include the feature films Rufus and 45 RPM and numerous TV movies including Held Hostage, Northern Lights, Love Sick, Hush Little Baby, Don't Cry Now and others. Other television work includes more than 50 episodes of the CBC Television series Heartland as well as the TV movie A Heartland Christmas. He has also completed Second Unit photography on the feature films Boot Camp and Big City and the acclaimed mini-series Human Trafficking as well as shooting award winning work on short films such as Glue, June, Pieces of Eight, Bohemians, Insomniac, The Office, Carpe Diem and Game Seven.
Craig lives and works In Calgary, Alberta, Canada.