MIFF'S BEST 2014 during AFM -- November 5 @ IIC Los Angeles

This year's MIFF's Best on November 5th will be held as always at the Italian Cultural Institute Los Angeles under the auspices of the Consulate General of Italy, during American Film Market week.

The highlight of the night will be the presentation of Leonardo's Horse Best Film Award LATE SPRING.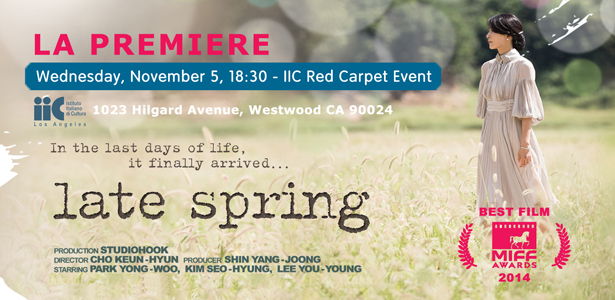 Winner of three major awards including Best Film at this year's Milan International Film Festival Awards LATE SPRING will be showcased in Los Angeles at the annual MIFF's Best held at the Italian Cultural Institute. A beautifully woven story set in post-war 1960s Korea, the film tells of a relationship between a renown but depressed sculptor and a country bumpkin model selected by his dedicated wife as a muse to rekindle her husband's love of creating art.
The event will be attended by notable celebrities and dignitaries including the Consul General of Italy, the heads of Korean Film Commission and Korean Cultural Institute as well as Golden Globe Awardee Sandra Oh ("Grey's Anatomy", "Sideways") and the main cast and crew of "Late Spring" who will be traveling to Los Angeles from Seoul for the event.
This event is closed to the public and is strictly invitation only. Invitations are non-transferrable. To participate as a Media/Press please read the press release below.